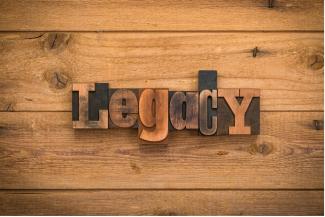 Help Clients with Big Charitable Dreams
By Greg Freeman, JD, ChFC, CLU, RICP, CLTC
Download a reader-friendly PDF
All of us want to make a difference in this world, but not many ever feel they have made much impact. If only their wealth manager could help them....
While this may be more of a spiritual question, let's direct this discussion to how we could improve our charitable giving. The two things that make the most difference in our giving will be the selection of where to give and the actual amount we give. Let's just focus on the part where financial advisors can make the most difference: how much your clients can give. If you can help your clients with their giving, you will have done something of great value, possibly life-changing value.
As a wealth manager, you can see what assets on a client's balance sheet are good candidates for a charitable gift and whether a client's income can be managed in a way to maximize their giving. That's often as far as advisors go. But let me encourage you to take one more step here. What if you could help leverage their giving to result in amounts that could make a huge difference for both your clients and for the organizations they want to help? Life insurance offers a great solution.
Think about it. Clients don't know when they are going to die and have no idea of whether they will ever be able to create the kind of wealth that could make a difference for their favorite charity. Clients can only see the small steps they are taking along the way with no idea of the ultimate result. Limiting their vision to just their annual gifts can leave them with little sense of the impact they may ultimately have. But what if instead we put in motion a much larger lifetime gift that they knew would result from their efforts? For example, someone could get a lot of pleasure out of giving $6,500 per year to an important cause or institution, but what if they learned it could actually become a gift of $1,000,000? That's the kind of leverage we might see for a 45-year-old female in today's insurance market.
Whether it has been articulated or not, building a legacy is a major goal for many of your clients. It is human nature. Legacies can take many forms, but they typically involve family or people and causes your clients want to support. There's always something to be said about regular giving and support, and I don't want to take away from that. However, the idea that someone could be the person who arranged a $1,000,000 gift for an important cause can be very motivating. Knowing that such a gift will happen is very different from hoping that someday their gifts might total as much as $1,000,000.
Life insurance policies give a clear picture of the end result. The face amount is the result. The premiums are the steps we take to get there with a high degree of certainty. As you can imagine, there is a wide range of policies and premium patterns that can be selected. But here's the good news: all arrangements can be tax deductible, making the true leverage even better.
A major stumbling block can be if your client is uninsurable. But that is only a problem if your client is the only person in the world. We have often seen insurance funding built upon other insurable lives in those circumstances. Typically, we might insure the client's spouse, another relative, or the client may fund coverage placed on one of the charity's leaders or board members. Regardless of the person selected to be the insured, we can look to the same result: a death benefit funded with deductible premiums. We just prefer to insure the client so that we can stretch the premiums safely over their entire lifetime if desired.
One of the more subtle benefits of this type of planning is how it protects the family beneficiaries from feeling disinherited by their parents' giving. If mom and dad give a major estate asset to their alma mater, the beneficiaries of the estate might be, well, unexcited. But if the charity receives a death benefit on a policy it already owns, the beneficiaries are unlikely to feel any sense of loss due to that gift. Moreover, in more controversial situations, beneficiaries can file lawsuits to fight estate transfers to charities, while the life insurance arrangement leaves little opportunity for such actions.
What if the client changes their mind along the way? Typically the policy is set up with the charity as the owner. The client will have already deducted the premiums they paid, and can just walk away from the arrangement. Then it will be up to the charity to decide whether to complete any remaining funding out of their own resources. In other situations like this, the insured may want to take over the policy and continue it personally for their own benefit. This can be done, usually by "buying" the policy back from the charity. Whether this is a good idea may depend on the value of the policy, the insurability of the client, and the willingness of the charity to unwind things in this way.
Ultimately, gifts of life insurance are simple and extremely cost-effective. We can even arrive at lower premiums by insuring two people on the same policy, typically two spouses. In such a case, that $6,500 premium for the single female age 45 could drop to $4,300 with the same carrier when the coverage is on the wife and the husband and both are age 45. If one of them lives a long life, such as age 95, the total premiums paid would still only be $215,000 for that $1,000,000 policy!
Older ages trigger higher premiums, but those premiums remain cost effective. Using the same insurance solution mentioned above, two 65-year-olds might pay around $12,500 per year for a $1,000,000 gift to charity. The higher premium is paid over a shorter life expectancy. So, for them, the total premiums they might pay all the way to age 95 would be $375,000 for that $1,000,000 gift. Again, don't forget that if they are in a 33% combined state and federal tax bracket, the $12,500 premiums create a potential tax savings of $4,165, resulting in an annual net cost of $8,335.
Forgive me for dreaming a bit, but I am sure you have clients that could easily set up life insurance gifts with policy amounts of $10,000,000! The larger the face amount, the larger the client excitement. This reminds me that years ago a study was conducted by one of the planned giving councils. That study found that clients who engaged in planned giving were likely to deliver as many as 3-4 referrals to their advisor unsolicited! So, although most of the firms we support are fee only, there is something here that will make planning in this direction quite valuable to your firm.
Being able to dream great things with your clients and show them ways to accomplish their dreams is a powerful way to serve clients and strengthen your relationship with them. The gift of a life insurance policy is a fantastic way to assure clients that they will have major impact on a cause that is important to them. It assures them an important legacy.
If you have a client who might want to consider something like this, contact AdvisorServe and we will build options for you. We will help design what type of coverage, what carrier to use, and ultimately what premium pattern would best fit your client's financial model. We can also assist in determining insurability, and if it presents an obstacle, alternatives that could meet their objectives.
Excited clients grateful for their wealth manager – it won't get much better than this!
---
Securities offered through Kestra Investment Services, LLC (Kestra IS), member FINRA/SIPC. Investment advisory services offered through Kestra Advisory Services, LLC (Kestra AS), an affiliate of Kestra IS.  AdvisorServe is a member of Partners Financial. Kestra IS and Kestra AS are not affiliated with AdvisorServe or Partners Financial.  Kestra IS and Kestra AS do not provide tax or legal advice.  This site is published for residents of the United States only. Registered Representatives of Kestra IS and Investment Advisor Representatives of Kestra AS may only conduct business with residents of the states and jurisdictions in which they are properly registered. Therefore, a response to a request for information may be delayed. Not all products and services referenced on this site are available in every state and through every representative or advisor listed. For additional information, please contact Kestra IS Compliance Department at 844-553-7872. Any website links referenced on this site are being provided strictly as a courtesy. Neither Kestra IS, Kestra AS, nor AdvisorServe are liable for any direct or indirect technical or system issues or any consequences arising out of your access to or your use of the links provided.